Welcome to
Seymour Reporting Services

!
Where you need us, when you need us!
What Makes Us Different?
At Seymour Reporting Services every client is equally important to us. We don't see our clients as numbers; we see our clients as people. With focus on each client, we listen closely to what you need and want in your service, and then we provide it! We take the time you need for any and all questions or concerns, and we will help you with them. We are customer-service driven for YOU!
A company built by referrals, Seymour Reporting Services is dedicated to exceeding customer expectations by delivering high-quality and accurate court reporting. We pride ourselves in knowing what our clients' needs and preferences are, and we make sure that they are delivered on each and every job.
With each person we work with, our goal is to earn the right, privilege, honor and respect to work with that person again. We care about each and every client experience.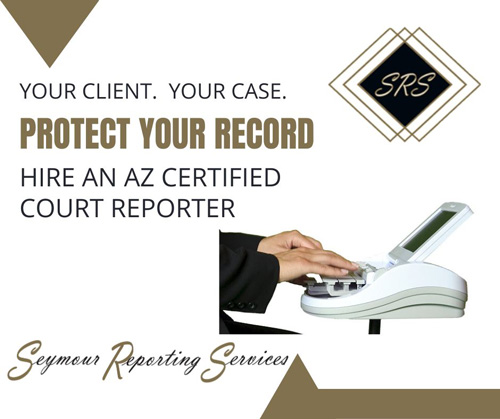 Call Us Today! We are already looking forward to working with you!
The best compliment you can give is a

referral

.
Thank you!